Hindu Court Marriage Process in Pakistan
Marrying a loved one is an important decision, and couples from all walks of life have their own unique way of celebrating this momentous event. For those who follow the Hindu faith, the court marriage process in Pakistan can be a bit daunting. Here we will provide an overview of the Hindu Court Marriage process in Pakistan, including details on how to register your marriage. We'll also discuss what documents you need to present and what steps are involved in carrying out the ceremony itself. With this information, Hindu couples can proceed with confidence before making these important decisions.
What is a Hindu Court Marriage?
A Hindu Court Marriage is a legal marriage conducted by a civil authority in Pakistan. The process of a Hindu Court Marriage in Pakistan is very simple and straightforward. Both the bride and groom need to appear before the Lawyer of the Marriage with two witnesses each. The Lawyer will then ask the couple to sign the marriage certificate and issue them with a marriage certificate
Hindu Marriage Act 2014 in Pakistan
Pakistan is a country where Muslims are in majority however; there are also many non-Muslim minorities living in the country. The constitution of Pakistan guarantees equal rights to all citizens regardless of their religion. The Hindu community is one of the largest non-Muslim minority communities living in Pakistan.
Like other Pakistani citizens, Hindus also have the right to get married according to their religious rites and rituals. However, there is no specific law for Hindu marriages in Pakistan. In 2014, the Parliament of Pakistan passed the Hindu Court Marriage Act which provides a legal framework for Hindu marriages in Pakistan.
Under this Act, any Hindu couple can get married by registering their marriage at the office of the District Registrar. The minimum age for marriage under this Act is 18 years for both men and women. Prior to getting married, the couple has to give an affidavit before the District Registrar stating that they are not related to each other within the prohibited degrees of relationship and that they are not already married.
The District Registrar will issue a marriage certificate after due verification. This certificate will be valid throughout Pakistan and will be considered proof of marriage. The couple can also get their marriage registered at the Union Council level but it is not mandatory.
The Hindu Marriage Act 2014 has made it easier for Hindus living in Pakistan to get married according to their religious rites and rituals. This Act has provided a legal framework for such marriages which was previously not available in Pakistan.
The Hindu Marriage Act 2014 was enacted to provide a legal framework for the solemnization of marriages between Hindus in Pakistan. The Act applies to all Hindus, including those belonging to the scheduled castes and tribes, who are residents in Pakistan.
Procedure of Hindu Court Marriage in Pakistan
The Hindu Court Marriage Act 2014 lays down the following procedure for the solemnization of a Hindu court marriage:
(1) The bridegroom and the bride shall each give notice in writing to the Registrar of Marriages, specifying their names, addresses, and intended place of marriage, at least thirty days before the date of the marriage.
(2) The Registrar of Marriages shall then publish a notice of the intended marriage in the prescribed manner.
(3) If there is no objection to the marriage, it shall be solemnized by a Hindu priest or minister in accordance with Hindu rites and ceremonies.
(4) The Registrar of Marriages shall then register the marriage and issue a certificate thereof.
Requirements of Hindu Court Marriage in Pakistan
If you are a Hindu living in Pakistan and wish to get married, you will need to follow the requirements for a Hindu Court Marriage. While the process is similar to that of regular court marriage, there are some specific requirements that must be met in order for the marriage to be legal.
First, both the bride and groom must be Hindus. If either party is not Hindu, they will not be able to get married in a Hindu court. 
Second, both parties must be at least 18 years of age. If either party is under 18, they will need to have parental consent in order to get married.
Third, the bride and groom must each have two witnesses present at the time of their marriage. These witnesses can be any adult who is not related to either party. 
Documents Required for Hindu Court Marriage in Pakistan
Documents Required for Hindu Court Marriage in Pakistan:
Passport-size photographs of both the Bride and Groom.

National Identity Card (NIC) or Computerized National Identity Card (CNIC) of both the Bride and Groom.

An affidavit by both the Bride and Groom declaring that they are not married to anyone else and that they are willing to marry each other under the Hindu marriage act.

Two witnesses along with their NICs or CNICs.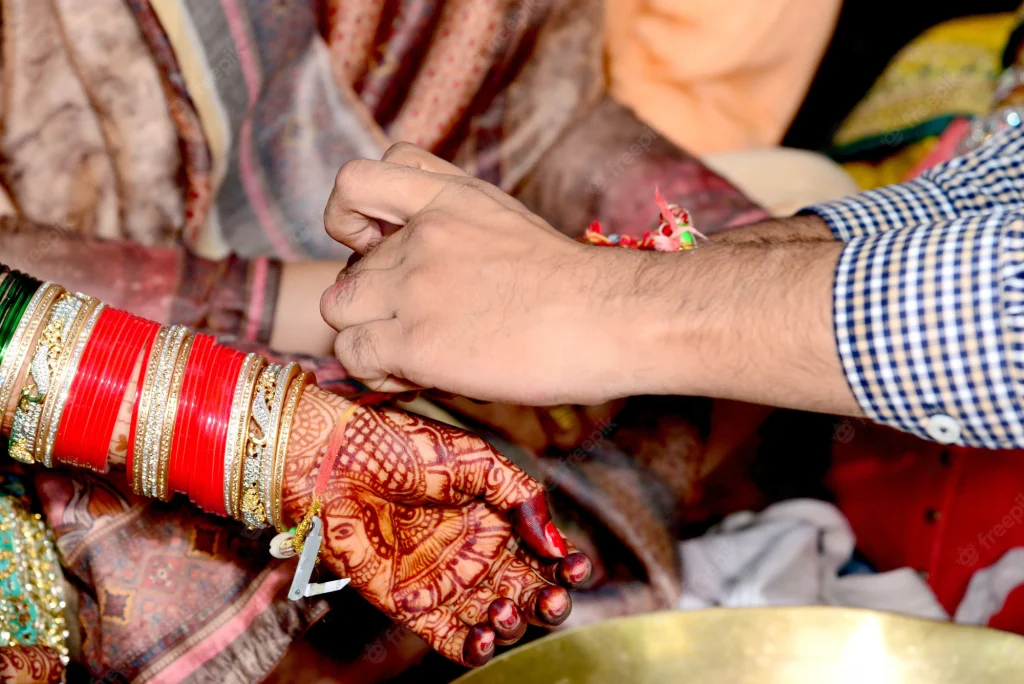 Contact Us For Our Hindu Court Marriage Services
If you are looking for Hindu Court Marriage services in Pakistan, then you have come to the right place. We are a leading provider of such services and can help you get married in a court of law.
We have a team of experienced and qualified lawyers who will guide you through the entire process and ensure that everything is done according to the law. They will also represent you in court if required.
We offer our services at very competitive rates and can tailor them according to your budget. So, if you are interested in getting married through a Hindu Court Marriage, then please do not hesitate to contact us.