Online Marriage Services by Our Marriage Lawyers
We are changing the way we look at marriage as the world changes. Compared to traditional ways of getting married, Online Marriages are becoming increasingly popular due to their convenience and affordability. Our Marriage Lawyers understand that couples may need legal assistance to tie the knot in a way that is convenient, yet complies with Pakistani regulations. Our Online Marriage Service allows our clients to complete all the paperwork without having to physically visit our office – saving them time and money.
Online Marriage Services 
An Online Marriage is a marriage over the internet via video call or Skype. Marriage is a sacred institution that deserves respect. At our Law Offices of Mohsin Ali Shah, our attorneys have represented clients in a wide range of marriage-related matters, including divorce, child custody, and prenuptial agreements. Our law firm understands the importance of this institution, and we are committed to providing our clients with the best legal representation possible. The number of people getting married online is increasing. 
Our Marriage Lawyers in Pakistan with 38 years of Experience
Our experienced marriage lawyers in Pakistan have a wealth of knowledge and experience when it comes to marriage. We offer Online Marriage Services as well as in-person guidance during the process. Our knowledge of Pakistani marriage law can help you ensure that your marriage is legal and binding.
Divorce and other family law matters can also be handled by us. Our goal is to help you make the best decisions for your future, and we will work tirelessly to protect your interests and rights. Find out more about our marriage Services in Pakistan by contacting us today.
Online Marriage Requirements in Pakistan
In Pakistan, Online Marriage is a legal process, and our lawyers can help you through it. Online Marriage in Pakistan requires the following requirements:
The bride and groom must both be Muslims.

The bride and groom must both be Pakistani citizens.

It is necessary for both the bride and groom to be at least 18 years old.

There must be valid ID proof like a passport or CNIC for the bride and groom.

Both parties must sign the Nikah Nama (marriage contract) in front of two witnesses.

Within three months of signing, the Nikah Nama must be registered with the Union Council.

In addition to the marriage certificate issued by the Union Council, a copy of the Nikah Nama will be sent to both the bride and groom after registration.
Online Marriage Documents Required in Pakistan
We can assist you if you are looking to get married online in Pakistan. Pakistani Online Marriage documents include:
 Passport copies of the bride and groom

 Birth certificates of the bride and groom

 A copy of the bride's and groom's national identification cards

 The bride's and groom's family registration certificates

 The divorce certificate is required if the bride is getting married for the second time.

A copy of the death certificate of the bride's spouse if she is a widow

A recent passport photo of each of the bride and groom
Online Marriage Procedure in Pakistan
It is very easy to get married online in Pakistan. We will help you get married online without any hassle. All you need to do is provide some basic information and documents to our lawyer and we will handle the rest. Online Marriages are well known to our Marriage Lawyers, and they will make sure everything is done in accordance with Pakistani law.
Online Marriage Services: Benefits
Online Marriage Services offer many benefits.
 First of all, it is a very convenient way to get married. Rather than having to travel to Pakistan, you can do it from home.

 Secondly, Online Marriage Services are usually much more affordable than traditional wedding ceremonies. 

The third benefit is that you will not have to deal with any of the hassles associated with a traditional wedding, such as vendors, guests, etc. 

You can be assured that your marriage will be legal and recognized by the Pakistani government.
The importance of Online Marriage in today's technological age
Currently, Online Marriages are very popular and common. The internet has made the world into a global village where everyone is connected to each other. It's not surprising that people are getting married online.
Technology has made Online Marriage an increasingly popular option for couples looking to tie the knot. The main reason for this is that it allows couples to save a significant amount of money on their weddings.
Online Marriages typically cost a few hundred dollars. There is no need to pay for things like a venue, catering, flowers, or even a photographer. An officiant and an internet connection are all you need!
We strongly recommend considering an Online Marriage if you're considering getting married soon. This is a great way to save money and avoid unnecessary stress.
We have Marriage lawyers with over three decades of experience in Pakistani Marriage Law
With over three decades of experience handling Pakistani marriage cases, our attorneys have a wealth of knowledge and experience in the field. We understand the complexities of the law and can provide expert advice on divorce, custody, and prenuptial agreements. We also offer an Online Marriage Service that allows couples to get married without going through the traditional court system. With our Service, you can get married quickly, easily, and conveniently, and we can handle all of the paperwork.
Islamic Law Applies to Online Marriages of Muslims
Muslims in Pakistan perform Online Marriages in accordance with Islamic law and teachings.
Islam is a complete code of life, as we all know. Every aspect of human life is covered in its teachings. Marriage is one of the most important aspects of a person's life. This is a sunnah of our beloved Prophet Muhammad (peace be upon him). Marriage is a sacred contract between a man and a woman according to Islamic teachings.
When performing an Islamic marriage, certain rules and regulations must be followed. These rules and regulations are completely familiar to our lawyers. Your Online Marriage will be performed according to Islamic law by them.
Contact our lawyers today if you want to get married according to Islamic law!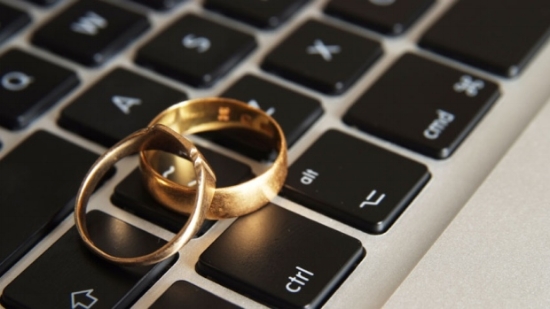 Online Marriage: A Good Option for Overseas
As our lawyers in Pakistan offer Online Marriage Services, you no longer need to leave your home to get married. For overseas couples who want to get married without any hassle, this is a great option. Please fill out an online form and provide us with the required documents. We will complete the legal formalities and finalize your marriage as soon as we have all the information we need.
In addition to being convenient, this Service is also cost-effective since you will not have to incur any travel expenses. Additionally, it can be completed within a few days, making it a great option for those who want to get married quickly. Do not hesitate to contact us if you are planning to tie the knot soon.
Our Online Marriage Service is available to you
Our lawyers in Pakistan can assist you with Online Marriage Services. 
Do not hesitate to contact us if you need any of our Online Marriage Services. Through every step of the process, our team of experienced lawyers will be happy to assist you.