SUCCESSION CERTIFICATE/ADMINISTRATION LETTER
Letters of Administration (for immovable properties) and Succession Certificates (for movable properties) of deceased individuals usually take years to process. Using Succession Facilitation Units operated by the National Database Registration Authority, legal heirs can obtain success certificates or letters of administration without having to approach the courts. In Islamabad, the only Facilitating Unit handles assets located in the Islamabad Capital Territory (ICT). A number of Succession Facilitation Units will be established by NADRA in the near future across Pakistan.
Applicants will need to submit the application form, which will be available on NADRA's website and in local newspapers. After 14 days (London, Manchester, Birmingham, Bradford, Jeddah, Riyadh, Medina, Dubai, Abu Dhabi, Doha), the legal heirs may conduct the biometric certification at their NADRA office or Pakistan Mission abroad. Upon biometric verification of the legal heirs, the applicant will receive a Succession Certificate or Letter of Administration. 
Additionally, the government is setting up a variety of biometric verification centers throughout Pakistan as soon as possible. Besides those mentioned above, these centers will be opened in a wide range of cities at the earliest possible moment.
To apply for a Letter of Administration/Succession Certificate, follow these steps:
1. Application Submission:
The applicant must submit a death certificate, their own national identity number, and their own national identity number. Before filing the application on behalf of each legal heir, the Applicant must obtain their authorization.
2. Legal Heirs and Assets:
In order to proceed with the application, the applicant must disclose the heirs and assets of the deceased.
3. Verification of Legal Heirs:
NADRA's Registration Center for biometric verification requires applicants to verify all information provided in their application, as well as any legal heirs named by them.
4. The Public Notice:
NADRA will publish a newspaper notice to identify any objections.
5. Letter of Administration/Succession Certificate: 
After 14 days, the applicant will receive the certificate if there are no objections.
IT'S TIME TO STOP GOING TO COURT!!
NADRA's Official Website Provides More Information:
Online applications will soon be accepted by NADRA
Pakistan's NADRA issues succession certificates. If you need a succession certificate, our lawyers can help.
We would be happy to provide you with any information you need regarding inheritance or succession certificates in Pakistan. This website provides all the necessary information regarding inheritance certificates and succession certificates in Pakistan.
NADRA issues succession certificates in Pakistan for inheritance purposes. NADRA issues succession certificates to heirs who claim to be the heirs of a deceased individual. Obtain all the necessary supporting documents, including a Succession Certificate application, to prove your claim.
Succession certificates describe the estate and assets left to the heirs of a deceased person after his death. The Succession Certificate also details the value of each heir's share of the deceased's property and assets. 
A processing fee is required before Succession Certificates can be issued by NADRA. For your reference, we have attached a fee schedule: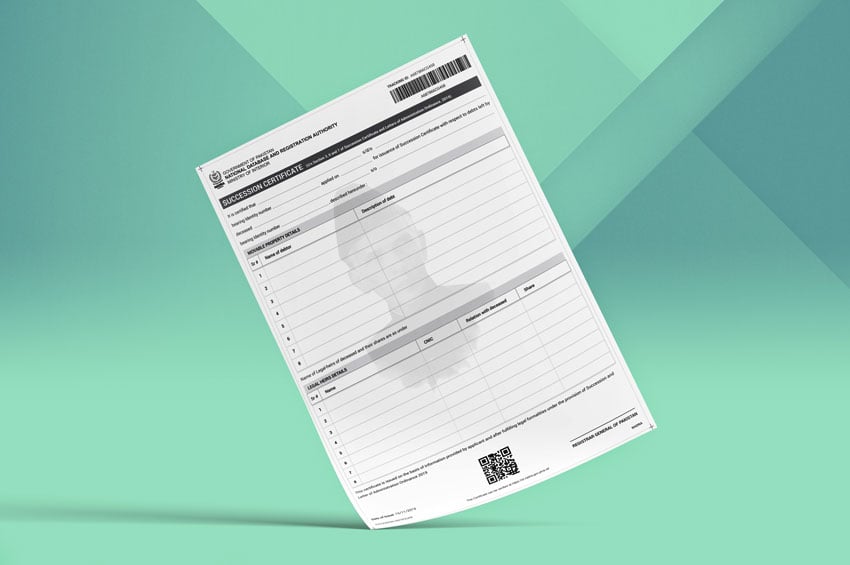 Succession Certificate Fees
Processing Fee:
Property or assets valued over Rs. 100,000 are subject to a fee of Rs. 20,000.

An estimated value of less than Rs. 100,000 is subject to a fee of Rs. 10,000.
Duplicate Certificate Fee:
A duplicate certificate costs Rs. 5000.
Pakistan's National Database and Registration Authority issues Succession Certificates. NADRA maintains national databases, including those related to identity cards, immigration, and nationality.
A Succession Certificate allows you to transfer your property rights when you die. Upon your death, your will establishes your heirs' rights to your assets and assists them in resolving any disputes over who should receive your assets.
Please contact us if you are interested in learning more about succession certificates in Pakistan.
Succession certificates are issued by NADRA in Pakistan
Succession certificates are used to transfer assets and properties. The document proves that you own a property. Through this, you can get a mortgage, a transfer deed, and access credit.
Pakistan's National Database and Registration Authority (NADRA) issues succession certificates. An asset transfer certificate documents the transfer of assets.
Although NADRA is not required to change property rights when issuing these certificates, it does so upon request. Documents are only issued when ownership has changed or if legal ownership has changed, such as a will.
To verify inheritance legitimacy, Pakistan's National Database and Registration Authority (NADRA) issues succession certificates.
A Succession Certificate can be obtained by providing the following information:
Name and date of birth of the deceased

Names, addresses, and phone numbers of applicants

Photographs of each applicant 

Identification card and CNIC copies
If you are the spouse or legal heir of a deceased person, NADRA can provide you with a Succession Certificate. With this certificate, legal heirship is established.
Certificates of Succession may be requested in the following situations
The deceased was married to you

Upon the death of the deceased person, you were legally adopted

Your deceased child has no legal heir, and you are his or her parent.
All NADRA Succession Certificates are available from us.
The NADRA, which is responsible for issuing succession certificates in Pakistan, maintains registries and databases. Here are some tips to help you get one:
Documents supporting your application must be provided. Proof of death must be obtained from a physician or hospital, along with a copy of the deceased's identification documents.

 Please submit these documents in person or by mail to the NADRA office closest to you (if possible). 
It provides a speedy, efficient, and transparent process for issuing letters of administration and succession certificates. 
A letter of administration/certificate of succession is required by an heir in order to claim the estate of a deceased person. With the passage of the Letters of Administration and Succession Certificates Act in 2021, NADRA can now issue Succession Certificates instead of Civil Courts.
NADRA may designate any existing office as a succession facilitation unit, at any location it deems appropriate. Applicants may submit an application to NADRA in the prescribed manner, with the authority of all other legal heirs of the deceased person, based on the jurisdiction where the deceased normally resided or any assets or properties of the deceased are located, or according to the jurisdiction where the deceased died. 
NADRA should process a family registration application as soon as it receives the family registration form.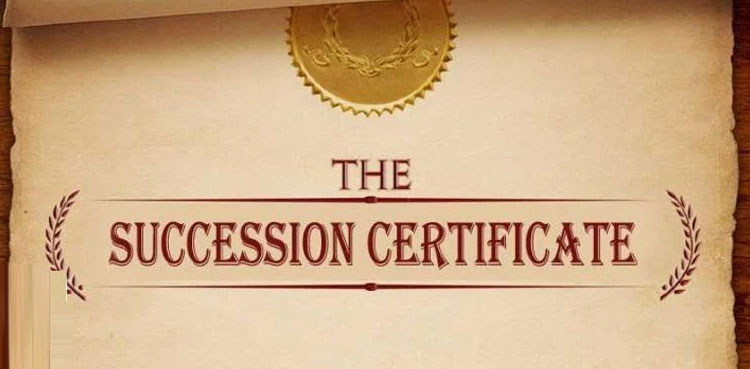 The following documents should accompany it:
(1) A death certificate for the deceased
2) The legal heirs' names, along with copies of their identification cards (CNICs).
3)  Joint approval if all legal heirs request it
4) A Letter of Administration/Succession Certificate detailing the details of the property covered by the document.
A notice should not be published on a web portal by either the English-language or Urdu-language national newspapers.
If there are no objections, biometric data of all legal heirs will be verified within fourteen days of publication of the notice. All legal heirs receive a letter of administration or a succession certificate along with their respective shares.
Best Lawyers can provide legal advice on Succession Certificates
To obtain a legal succession certificate, you need to apply through NADRA, and an attorney can help you. Normally, the jurisdiction of a deceased person is the place where he lived before he died, or if no such place exists, the place where his property is located.
Certificates of Succession Prove Family Succession
NADRA issues succession certificates to those who inherit debts and securities after a deceased person passes away. With this document, securities can be transferred and debts can be paid. Certificate holders can make these changes.
The validity of succession certificates in Pakistan is not geographically restricted. Indemnification is provided to debtors who owe such debts. As a result, businesses and individuals often seek succession certificates before settling debts or securities.
Succession Certificates are provided by the lawyers at Qanoon.online
In Karachi, Islamabad, and Rawalpindi, we have selected some of the best succession certificate lawyers. If you prefer, you can speak directly to one of our attorneys over the phone. You will be able to figure out what to do if you speak with them.
Frequently Asked Questions (FAQs)
1. Do Succession Certificates require a Lawyer?
The process of obtaining succession certificates and letters of administration can be expedited and handled better by a lawyer. You will be guided and represented by him in the best possible manner. A well-planned procedure prevents future conflicts and losses. A succession certificate usually takes one to two weeks to obtain.
2. How can I find a lawyer near me?
When you have a lawyer near you, you can exchange documents and/or meet with them whenever necessary.
3. The best lawyer for Succession Certificate Cases in Pakistan?
To shortlist the right Succession Certificate lawyer, you must find one with a decent amount of experience handling cases like yours and who charges a fee within your case budget in Karachi, Islamabad/Rawalpindi, and/or Lahore.
4. How Much does it Cost to Hire a Succession Certificate Lawyer in Karachi?
The fee for a succession certificate lawyer depends on the type of case, the lawyer's experience, and their track record.
5. How do Succession Certificate Lawyers and Their Clients Communicate?
Many Succession Certificate Lawyers in Karachi and Islamabad, Pakistan meet with their clients in person during the initial stages of the process before they begin processing their cases. If the client has any questions, he or she can also contact the lawyer by e-mail or phone.
6. Are Succession Certificate Lawyers from other Provinces Available to Hire?
You're right, that's correct. As a result, it would be advantageous to hire a Succession Certificate lawyer from the province where your case was filed as they will have a better understanding of the local laws and regulations.